Cancer Institute
---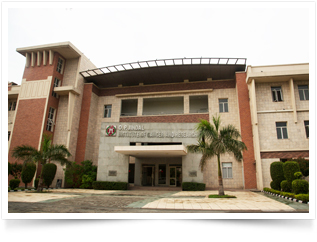 O.P. Jindal Institute of Cancer & Research is a comprehensive Institute with a mission to provide quality care at an affordable cost to patients.

We have a team of highly qualified and dedicated doctors supported by a cutting edge technology to add years with a good Quality of Life in the disease like cancer.

The institute has chemotherapy day-care facility with in-house pharmacy for providing chemotherapy drugs at a very-very subsidised price.

Our institute is equipped with Elekta Synergy Linear Accelerator system, which is one of the first linear accelerator to bring 3D image guidance into the treatment set up process. The system is equipped is capable for IMRT along with imaging tools that help clinicians visualize tumor targets and normal tissue, and their movement between and during fractions. The integration of this technology in the Elekta Synergy gantry enables physicians to perform imaging with the patient in the treatment position at the time of treatment, to optimize patient setup before therapy.

HDR Brachytherapy Unit for post operative treatments for cancer cervix and soft tissue sarcomas along with prostate, nasopharunx, oesophagus implants to extend ultimate conformal radiation for early tumors or as a boost along with external beam treatment is available with us.

High-end Diagnostic and imaging technology in the form of MRI (1.5 Tesla), CT Scan (128 slice) and is available to maximize the accuracy of the treatment planning.

The latest version of "Monaco Treatment Planning System" by Elekta is used for treatment planning on the radiation machines to provide radiation therapy with at most accuracy and precision.

What is Cancer ?
Cancer, known medically as a malignant neoplasm, is a broad group of diseases involving unregulated cell growth. In cancer, cells divide and grow uncontrollably, forming malignant tumors and invade nearby parts of the body. The cancer may also spread to more distant parts of the body through the lymphatic system or bloodstream. When cancer begins it invariably produces no symptoms with signs and symptoms only appearing as the mass continues to grow or ulcerates.

Cancer is the new "great imitator". Thus it is not uncommon for people diagnosed with cancer to have been treated for other diseases to which it was assumed their symptoms were due.

Many management options for cancer exist with the primary ones including surgery, chemotherapy, radiation therapy, and palliative care. Which treatments are used depends upon the type, location and grade of the cancer as well as the person's health.
Message to People
Cancer treatment is a multi-modality treatment with surgery being an integral part of the treatment. Infact surgery is main modality of treatment for most of the solid tumors of our body. So don't be afraid of cancer surgery.
With better understanding of the pathology of tumor, better understanding of disease spread and better understanding of surgical techniques, better anaesthesia techniques, better post-operative care, better reconstructive options, cancer surgeries have become very safe now –a –days.
Cancer is curable if treated early and proper treatment at proper place is done.
Cancer does not spread by touching (by surgery). Cancer grows at its own speed whether touched or not.
Cancer treatment cannot be decided by patient wish. Cancer is treated by standard treatment protocols developed after years of research.
Even A painless lump in the body (breast, neck or any other part) can be a cancer, so don't neglect a painless lump and seek treatment early.
Medical Oncology
---
FACULTY
Dr.Bhratri Bhushan, DM (Medical Oncologist)
OPD : Monday to Saturday
FACILITIES
Preventive Oncology
Chemotherapy
PICC Line
In-house Onco Pharmacy
Daycare Ward
Palliative Care
Surgical Oncology
---
FACULTY
Dr. Ramesh Kumar Kaswan, M.Ch. (Onco Surgeon)
OPD : Monday to Saturday
FACILITIES
Fibreoptic laryngoscopy
Bronchoscopy
Direct laryngoscopy
Upper GI endoscopy
Colonoscopy
Diagnostic laparoscopy
Diagnostic Thoracoscopy
Medistinoscopy
Our motto – Quality care at affordable prices.
The department was started in 2007 .
This dept has grown tremendously from 100-200 cases in 2007 to about 500 major onco-surgeries in 2012.
Facilities at JIMS

All the major and minor oncosurgeries, palliative and diagnostic procedures as well as reconstructive surgeries are being performed here regularly.
Also, the focus is on organ preservation. Organ preserving cancer surgeries like BCS (Breast conserving surgery), Limb preservation, Voice Rehabilitation are being performed regularly.
| | |
| --- | --- |
| Ca Maxilla | Radical maxillectomy |
| Ca Parotid | Superficial, Radical parotidectomy |
| Ca Larynx | Total Laryngectomy |
| Ca Larynx | Total Laryngopharyngectomy |
| Ca Oral cavity | Commando operation |
| Sec Neck | Neck dissection- RND, MND, SOHND |
| Ca Thyroid | Total thyroidectomy with neck dissection |
| Ca Esophagus | Transhiatal esophagectomy, Transthoracic esophagectomy |
| Ca Breast | MRM, BCS, MRM with LD Flap |
| Ca Stomach | Radical Gastrectomy (Partial, Total) |
| Ca Gall bladder | Radical Cholecystectomy |
| Ca Pancreas | Whipple' s operation, Distal pancreatectomy |
| Ca Colon | Hemicolectomy Rt, Lt, Transverse |
| Ca Rectum | APR, Post Exenteration |
| Ca Urinary bladder | Radical Cystectomy, Anterior Exenteration |
| RCC, Adrenal mass | Radical nephrectomy, Adrenelectomy |
| Ca Cervix | Werthiem's operation |
| Ca Ovary | Ovarian Laparotomy |
| Ca Endometrium | Staging Laparotomy |
| Ca Testis | Orchidectomy |
| Ca Penis | Partial, Radical Total amputation of penis, |
| Soft Tissue Sarcoma | Wide Excision |
Radiation Oncology
---
FACULTY
Dr. Abhijeet Tiwary, M.D. (Radiation Oncologist)
Dr. Deepak Kumar, M.D. (Radiation Oncologist)
OPD : Monday to Saturday
FACILITIES
Brachytherapy - HDR Microselectron
Radiotherapy – IGRT, SRS, VMAT Linac
Monaco Treatment Planning System
Empanelment of "O.P. Jindal Institute of Cancer & Cardiac Research" AND "N.C. Jindal Institute of Medical Care and Research" for Treatment of Haryana Govt. Employees continued w.e.f 13-05-2015